EAGLE ROCK ENTERTAINMENT PRESENTS
JOHN LENNON & YOKO ONO – "IMAGINE"
RESTORED & REMIXED FOR CINEMA AUDIENCES
WITH ADDITIONAL CINEMA-ONLY EXTRAS
IN SPECTACULAR DOLBY ATMOS IN SELECTED THEATERS
Official trailer HERE
Screening in cinemas Worldwide from September 17 2018
Full cinema list and tickets available now from
www.imaginefilmtickets.com
New Cinemas Added Daily
New York, NY (August 14, 2018) — Music fans will be celebrating this September, as John Lennon & Yoko Ono's Imagine hits the big screen. Including previously unreleased cinema-exclusive bonus material, restored footage, remixed, remastered and immersive Dolby Atmos soundtrack mix, it's a unique opportunity to witness Imagine like you've never seen or heard it before!
Imagine is a cinematic collage of color, sound, dream and reality. Produced and directed by John and Yoko, who, with numerous guest stars including George Harrison, Fred Astaire, Andy Warhol, Dick Cavett, Jack Palance and Jonas Mekas, create a world of imagination as rich and moving as the music that accompanies it.
The ground-breaking music film features a different visual treatment for every song, and follows John and Yoko during the recording sessions for Imagine in both the UK and New York, as they co-produced the record with Phil Spector.
Imagine has been restored frame-by-frame, from the original reels with the audio remix by triple GRAMMY® Award-winning engineer, Paul Hicks. It is accompanied by 15 minutes of never-before-seen extras including studio footage of John and his band (including George Harrison, Nicky Hopkins from the Rolling Stones, Alan White from Yes and Klaus Voormann) performing "How Do You Sleep?" and "Oh My Love" in a specially created Dolby Atmos surround sound "raw studio" mix that puts you in the center of the recording studio while the band play live.
"The people who all worked on IMAGINE were Peace People and it was so enlightening and exciting all the way through to be one of them. Remember, each one of us has the power to change the world." – Yoko Ono
For details of cinemas participating in this special event screening visit www.imaginefilmtickets.com
Running Time
83 Minutes
We just received this press release and are passing it along:
John, Paul, George & Ringo:
Fifty Years Later –
The Beatles Like You've Never Seen Them Before!
Tom Murray's The Beatles Collection, The Mad Day: Summer of '68 is now at Soho Contemporary Art 
May 31st through June 16th
July 28, 1968 was one of those perfect English summer dayswhen British photographer, Tom Murray, photographed the famed rock and roll group.  The shoot was done on the run (literally) all over London in order to escape the hordes of screaming Beatles fans that followed them everywhere.  Rushing from location to location inspired the name of the famous collection: The Mad Day: Summer of '68.These images would become the LAST publicity shoot of all four Beatles together– and represent the quintessential Beatles at the height of their psychedelic period and are considered the most important color photographs of the group.  The Beatles officially disbanded in 1970.
After Tom created the photographs, he edited them to twenty-three slides on the advice of renowned photographer and friend, Eve Arnold who said, "keep the best, ditch the rest."  And in his desk, the negatives stayed for 23 years. In 1986, Tom found the original slides of the Mad Day when he moved to LA to work with famed director, John Schlesinger.  Tom did not publish the full series of photographs until he met gallerists Rick and Irene Rounick.  The photographs, available in a 20 X 24 format size, are hand-signed and numbered from a limited-edition series of 185.  They are also available in a 30 X 40 format size, hand-signed and numbered from a limited-edition series of only 50.
The Mad Day Collection, which originally debuted in New York, is back with Irene and Rick Rounick, founders and owners of Soho Contemporary Art. The Rounicks, are ecstatic to bring Tom and the Mad Day Collection home. "Tom is a great photographer and our Gallery is thrilled to welcome him back to the family."  The full collection will open Thursday, May 31stwith a private VIP reception celebrating the 50thyear and will be open to the public starting June 1st. The show runs through June 16th.
The Mad Day Collection has showed internationally in museums and galleries in cities such as New York City, Los Angeles, Paris, Sweden and London where the opening ceremony of a permanent collection at the Museum in Docklands was officiated by the Queen Elizabeth, the Queen Mother, and Stockholm where the collection was presented in honor of the Queen of Sweden.  The Museum of Radio and Television in Los Angeles also has a selection of the photographs in its permanent collection.
About Tom Murray:
Tom Murray is an award-winning photographer whose work spans portraiture, theater, fashion, advertising, newspapers and magazines. He perfected his craft working for newspapers, becoming the head of photography for The Sunday Times Colour Magazine, London's first Sunday magazine. He then worked alongside master photographers Helmut Newton and Lord Snowdon.
At twenty-five, he received a commission from the Royal Family, becoming the youngest person to receive this honor, and has since immortalized subjects such as Elizabeth Taylor, Angelica Huston, Dustin Hoffman, Visconti, John Schlesinger, Armani and Ralph Lauren, etc.
His success has enabled him to donate his photographs to a number of causes close to his heart.  He has been significantly involved with the Make a Wish Foundation, Project Angel Food and Friends in Need, Cancer Care, Help the Hospice, Help for Hero's among many, many others.  In addition to having raised over 2.5 million dollars directly through his photographic donations, he has helped raise over 6 million dollars by donating as part of group shows.  In all Tom has worked on behalf of 32 charities worldwide. His photographs individually have received bids as high as tens of thousands of dollars.
About Soho Contemporary Art:
Rick and Irene Rounick have been at the forefront of the contemporary art movement for well over 30 years. They have an impressive roster of established and emerging artists from pop and contemporary culture including: Andy Warhol, Roy Lichtenstein, Keith Haring, Jean Michel Basquiat and recently added legendary graffiti artist Cope 2.  As such, Soho Contemporary Art is a great source for art aficionado's wishing to add to their collections as well as new collectors. The Gallery is located on the lower East Side of Manhattan at 259 Bowery. Rick and Irene, always ahead of the trends, were one of the earliest galleries to move to the Bowery locale.
I wrote the following columns for The College Times at Cal State LA during the summer of 1971. Zoom to to read
Press Relations - 1

Press Relations - 2

Press Relations - 3

Courtesy AARP
June 23, 1967
Artist Unknown
Offset, 1967
California
16963
On June 23, 1967, 15,000 anti-Viet Nam War demonstrators marched to the Century Plaza Hotel where President Lyndon B. Johnson was speaking. It was the largest anti-war gathering in L.A. history up to that time. The peaceful march, made up primarily of students and middle class protesters, including children and babies in carriages, was attacked and forcibly dispersed by hundreds of nightstick-wielding police on motorcycles.
In 1997, on the 30th anniversary of the demonstration, the LA Times reported that "the bloody, panicked clash (that ensued between the LAPD and primarily middle class protesters) left an indelible mark on politics, protests and police relations. It marked a turning point for Los Angeles, a city not known for drawing demonstrators to marches in sizable numbers… Johnson rarely campaigned in public again, except for appearances at safe places like military bases. Within nine months, opposition to the war grew so strong that he shelved his reelection campaign."
Produced immediately after the LAPD attacked the anti-Viet Nam War protest march at Century City, the poster features a police officer on a motorcycle. June 27, 1967, the date of the event, is depicted on his helmet. The officer's body and motorcycle are filled with words such as "Hate," "Kill," and "Smash" while he rides over "Peace" and "Love."
We were there!
Graphic and information courtesy of:

Fifty Years Later: The Beatles – All You Need Is Love
The Beatles by David Magnus
From their explosive beginnings -with frenzied fans drowning out the music with their screams -to their psychedelic evolution and mantra of love, love, love in the late 60's, The Beatles had a meteoric rise and a message that affected fans worldwide. Photographer David Magnus got to witness it all, meeting The Beatles at the age of 19 and following them as they made music history around the globe. His close relationship with the band and their publicist gained Magnus amazing behind-the-scenes access to The Beatles' historic "All You Need Is Love" recording session over the weekend of June 24th and 25th, 1967.
On Thursday, June 1st, to commemorate the 50th anniversary of that groundbreaking music event, Morrison Hotel Gallery will premiere an exclusive selection of photographs from Magnus' archives. The exhibit, entitled All You Need Is Love, features a lineup of images that have never been seen before in the U.S. This will also mark the first time these photographs have been available for sale. The exhibit will be open to the public in all three gallery locations, (NYC, West Hollywood and Maui), beginning June 1st and will run until June 13th, with all images available for purchase during and after the show, on the gallery's website.
The selection for the exhibit includes rare shots of the band and the other participants in what would become the first satellite broadcast around the world. In one shot, Brian Epstein perches alertly on a stool while George and Pattie Boyd Harrison chat in the background. Another catches Lennon from the side, poised in front of a microphone, glasses perched on nose, flower in hair and psychedelic love beads on display. Magnus was also able to catch the band at rest, relaxing during breaks in the action.
By the time the "Love"session came about, Magnus had been following The Beatles for a few years. He'd first been invited to photograph them in 1963 when, as a still-unknown band, they were playing a concert at the Stowe School. Even so, years later, Magnus was still struck by the band's magnetism and effect on people.
"As I came from the EMI canteen,"he said, "one of the female studio staff stopped me, put a hand on my shoulder and said to me, 'I must touch you as you've been in the same room as The Beatles.'It was as if I carried an aura from The Beatles. This to me sums up Beatlemania."
That aura permeates All You Need Is Love, which honors the historic Our World broadcast, the band, and their timeless message in one powerful exhibit. Peter Blachley, gallery co-owner, founder, and show curator, said, "This show represents the first coming together of music and technology through satellite broadcasting whose purpose was to reach a worldwide audience. We think nothing of it today, however 50 years ago it was a very big deal. A big deal made even bigger by the fact that the best band on the planet, The Beatles chose to send a message of love, hope and healing which we hope will be even more evident in this show today."
Read more about the images in the exclusive
Town & Country
announcement
of the exhibit.
About Morrison Hotel® Gallery
Morrison Hotel®Gallery (MHG) was founded in 2001 by former record company executive Peter Blachley, music retail industry professional Richard Horowitz, and legendary music photographer Henry Diltz. In 2012, author, director and photographer Timothy White joined the team, launching an additional West Coast gallery at The Sunset Marquis Hotel in West Hollywood. The partners just launched a new location at Mick Fleetwood's General Store in Maui, Hawaii.
MHG is the world's leading brand in fine art music photography representing over 100 of the world's finest music photographers and their archives. Their vast catalog of photography encompasses jazz, blues, and rock imagery spanning several generations through to today's contemporary music artists and now includes iconic photographs in the world of sports as well. MHG has a robust online presence, featuring over 100,000 images searchable by photographer, music artist, band or concert. www.
morrisonhotelgallery.com
Morrison Hotel Gallery
116 Prince Street || New York, NY 10012
212.941.8770
Morrison Hotel Gallery
Sunset Marquis
1200 Alta Loma Road || West Hollywood, CA 90069
310.881.6025
Morrison Hotel Gallery
Fleetwood's General Store
744 Front Street || Lahaina, Hawaii 96761
808.669.6425 (MICK)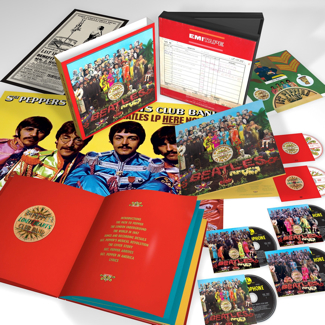 Apple Records has unveiled the most ambitious reissue of a Beatles title to date, with a "super deluxe edition" of "Sgt. Pepper's Lonely Hearts Club Band."
The May 26 release celebrates the 50th anniversary of the psychedelic music classic.
Highlights include a new stereo mix of the album, 5.1 surround via Bluray/DVD discs, a "lost" version of "Lucy in the Sky With Diamonds" and two CDs full of studio outtakes.
Sorry, it's a "no" for the long-sought-after experimental Beatles track "Carnival of Light," which dates back to the period.
Here's what's coming based on materials released April 4 and 5 by the Beatles' label (updated content):
A new mix of the 1967 album by Gils Martin and Sam Okell from the original master tapes.
Two CDs of outtakes, with almost three dozen tracks, many titles repeated, all of them from "Sgt. Pepper" or the single that preceded it. For example, five takes of "A Day in the Life." In chronological order of recording.
New stereo mixes of "Strawberry Fields Forever" and "Penny Lane." A new "Penny Lane" 5.1 mix and the 2015 surround version of "Strawberry Fields" (from "1+").
High-resolution versions of the new stereo mixes.
A mono album with a "lost" version of John Lennon's "Lucy in the Sky With Diamonds" and five other tracks.
A DVD/Bluray video package with "The Making Of" documentary. Restored promo films for "Strawberry Fields," "Penny Lane" and "A Day in the Life" (4k).
A 144-page book. Two posters and insert.
The set currently lists for $150 on a partial product page set up on Amazon.
"All of the Anniversary Edition releases include Martin's new stereo mix of the album, which was sourced directly from the original four-track session tapes and guided by the original, Beatles-preferred mono mix produced by his father, (producer) George Martin," the "Sgt. Pepper" press release says.
The set does not reissue the widely available standard stereo version of the Beatles album.
The extras on the CDs are said to be "a deeper dive with 100 minutes of outtakes, previously unheard and unreleased." Much of the material has been previously bootlegged, however, as was the case with the last major archival release, the "Anthology" CDs. The official release undoubtedly will bring higher quality to the studio rejects.
Contrary to recent media reports and resulting rumors, the newly remastered "Sgt. Pepper" does not insert "Strawberry Fields" and "Penny Lane" into the classic album's running order.
Apple also is offering a single CD ($19), double CD ($25) and double LP ($39) edition of the anniversary release. (Prices likely to drift a bit.)
> Read the complete list of "Sgt. Pepper" tracks on anniversary releases.
As for the vinyl version: "Expanded 180-gram 2LP vinyl package features the new stereo album mix on the first LP and adds a second LP with previously unreleased complete takes of the album's 13 songs, newly mixed in stereo and sequenced in the same order as the album."
"The Making Of Sgt. Pepper" was an official hourlong documentary that debuted in the U.K. in June 1992. Paul McCartney, George Harrison and Ring Starr participated, giving separate interviews. Producer George Martin also weighed in from the control board at Abbey Road. A slightly shorter version reportedly aired on the Disney Channel.
Tip o' the hat to Psychedelic Sight for the above information.
EAGLE ROCK ANNOUNCES THE NEXT ENTRIES IN
THE FRANK SINATRA COLLECTION
THE TIMEX SHOWS VOL. 1 & VOL 2.
~ON DVD AND DIGITAL FORMATS ON MAY 19, 2017~
On May 19, 2017, Eagle Rock Entertainment will release another pair of titles in The Frank Sinatra Collection on DVD and digital formats. On license from Frank Sinatra Enterprises (FSE), the definitive collection pulls together some of the finest performances on television and in concert from the greatest entertainer of the 20th century. The Frank Sinatra Collection brings together some of Frank Sinatra's finest performances on television and in concert.
The Timex Shows Vol.1
The Frank Sinatra Timex Show / An Afternoon With Frank Sinatra
This release combines his first two Timex TV shows from the late '50s.
THE FRANK SINATRA TIMEX SHOW – First broadcast by ABC on October 19, 1959. This was the first of four Timex-sponsored television specials that Sinatra hosted. It's a fun and energetic show that captures Frank Sinatra at the top of his game. Guests include Dean Martin, Mitzi Gaynor and Bing Crosby, who join forces for an opening rendition of "High Hopes" and later Jimmy Durante makes a surprise appearance.
AN AFTERNOON WITH FRANK SINATRA – First broadcast by ABC on December 13, 1959, 'An Afternoon With Frank Sinatra' was the second of Sinatra's four Timex television specials. The show includes guest appearances from Peter Lawford, Hermione Gingold, The Hi-Lo's, Red Norvo's jazz combo, dancer Juliet Prowse and the incomparable Ella Fitzgerald. Sinatra sings such hits as "I've Got The World On A String," "I'll Never Smile Again" and duets on "Can't We Be Friends" with Ella.
The Timex Shows Vol.2
To The Ladies / Welcome Home Elvis
This release combines his two final Timex TV shows from 1960.
TO THE LADIES – First broadcast by ABC on February 15, 1960, 'To The Ladies' surrounded Frank Sinatra with a host of wonderful female performers for his third Timex-sponsored television special. It's a mix of comedy, opera, dancing and great songs. Guests include Lena Horne, Mary Costa, Barbara Heller, Juliet Prowse and special guest star Eleanor Roosevelt.
WELCOME HOME ELVIS – First broadcast by ABC on May 12, 1960, 'Welcome Home Elvis' was Frank Sinatra's fourth and final Timex special. It marked Elvis Presley's first TV appearance after coming home from military service. Elvis performs "Fame And Fortune" and "Stuck On You" then Presley and Sinatra join forces on great renditions of "Witchcraft" and "Love Me Tender." Joining in the fun is Nancy Sinatra, Sammy Davis Jr., Peter Lawford and Joey Bishop.
FULL TRACKLISTING INFORMATION
'THE TIMEX SHOWS VOL. 1'
THE FRANK SINATRA TIMEX SHOW
1) High Hopes (Bing Crosby/Dean Martin/Mitzi Gaynor) 2) Day In, Day Out (Frank Sinatra) 3) Together, Wherever We Go (Frank Sinatra/Bing Crosby/Dean Martin) 4) Hurricane (Mitzi Gaynor) 5) Talk To Me (Frank Sinatra/Mitzi Gaynor) 6) Cheek To Cheek (Bing Crosby/Dean Martin/Mitzi Gaynor) 7) Wrap Your Trouble In Dreams (Dean Martin 8) Medley: Good Old Songs/Down By The Old Mill Stream/The Old Gray Mare/In Shade Of The Old Apple Tree/That Old Feeling/Down The Old Ox Road/Old Rockin' Chair/Old Devil Moon/You're An Old Smoothie/My Old Flame/Ol' Man River (Frank Sinatra/Bing Crosby/Dean Martin) 9) High Hopes (Frank Sinatra) 10) Medley: Just One Of Those Things/Angel Eyes/The Lady Is A Tramp (Frank Sinatra) 11) Medley: Start Each Day With A Song/Inka Dinka Doo/Baby, Won't You Please Come Home (Frank Sinatra/Bing Crosby/Dean Martin/Mitzi Gaynor/Jimmy Durante)
AN AFTERNOON WITH FRANK SINATRA
1) Spend The Afternoon With Me (Frank Sinatra) 2) I've Got The World On A String (Frank Sinatra) 3) The Desert Is Calling (The Hi-Lo's) 4) Comes Love (Hermione Gingold/Peter Lawford) 5) There's A Lull In My Life (Ella Fitzgerald) 6) It's All Right With Me (Frank Sinatra) 7) Juliet Prowse Dance Routine 8) Too Marvelous For Words (Frank Sinatra/Red Norvo Quintet) 9) Here Is That Rainy Day (Frank Sinatra/Red Norvo Quintet) 10) Just You, Just Me (Ella Fitzgerald) 11) I'll Never Smile Again (Frank Sinatra/The Hi-Lo's) 12) Can't We Be Friends (Frank Sinatra/Ella Fitzgerald) 13) Puttin' On The Ritz (Hermione Gingold/Peter Lawford/Juliet Prowse) 14) He Loves And She Loves (Ella Fitzgerald) 15) Love Walked Right In (The Hi-Lo's) 16) Our Love Is Here To Stay (Frank Sinatra) 17) Love Is Sweeping The Country (Frank Sinatra/Hermione Gingold/Peter Lawford/Juliet Prowse/Ella Fitzgerald)
'THE TIMEX SHOWS VOL. 2'
TO THE LADIES
1) Here's To The Ladies (Frank Sinatra) 2) I've Got You Under My Skin (Frank Sinatra) 3) Ouvre Ton Coeur (Mary Costa) 4) By Strauss (Barbara Heller) 5) Ring The Bell (Lena Horne) 6) Come Cha Cha With Me (Juliet Prowse) 7) It's A Lonesome Old Town (Frank Sinatra) 8) But Beautiful (Lena Horne) 9) From This Moment On (Lena Horne) 10) Harold Arlen Medley: As Long As I Live/It's Only A Paper Moon/One For My Baby/Accentuate The Positive/Stormy Weather/Get Happy/Between The Devil And The Deep Blue Sea (Frank Sinatra/Lena Horne) 11) My Heart Stood Still (Frank Sinatra) 12) Yours Is My Heart Alone (Mary Costa) 13) Afraid Of Love (Barbara Heller) 14) My Heart Belongs To Daddy (Lena Horne) 15) My Funny Valentine (Juliet Prowse) 16) High Hopes (Eleanor Roosevelt) 17) Here's To The Ladies (Frank Sinatra)
WELCOME HOME ELVIS
1) It's Nice To Go Trav'ling (Frank Sinatra/Joey Bishop/Sammy Davis Jr/Nancy Sinatra) 2) It's Nice To Go Trav'ling (Frank Sinatra/Joey Bishop/Sammy Davis Jr/Nancy Sinatra/Elvis Presley) 3) Witchcraft (Frank Sinatra) 4) Come On Bess (Sammy Davis Jr) 5) Oriental Dance (Leona Irwin & The Tommy Hansen Dancers) 6) Gone With The Wind (Frank Sinatra) 7) Uh Oh! (Nutty Squirrels) 8) All The Way (Sammy Davis Jr) 9) Shall We Dance (Sammy Davis Jr/Peter Lawford) 10) Fame And Fortune (Elvis Presley) 11) Stuck On You (Elvis Presley) 12) Medley: Witchcraft/Love Me Tender (Frank Sinatra/Elvis Presley) 13) Medley: Witchcraft/Love Me Tender – Reprise (Frank Sinatra/Elvis Presley) 14) You Make Me Feel So Young (Frank Sinatra/Nancy Sinatra) 15) Let's Dance (Nancy Sinatra)
About Frank Sinatra
Throughout his nine-decade career, Frank Sinatra performed on more than 1,400 recordings and was awarded 31 gold, nine platinum, three double platinum and one triple platinum album by the Recording Industry Associated of America. He extends his record to 57 for the most top 40 albums on the Billboard 200 with this year's new Ultimate Sinatra release. Sinatra has had Top 40 hits on the charts for eight decades, which is as long as the Billboard charts have existed. He received nine GRAMMY Awards over the course of his career, including three for the prestigious Album of the Year, and an Oscar. Sinatra demonstrated a remarkable ability to appeal to every generation and continues to do so; his artistry still influences many of today's music superstars. He also appeared in more than 60 films and produced eight motion pictures.
Sinatra was awarded Lifetime Achievement Awards from The Recording Academy, The Screen Actors Guild and the National Association for the Advancement of Colored People (NAACP), as well as the Kennedy Center Honors, the Presidential Medal of Freedom and the Congressional Gold Medal. Today, he remains a legend and an inspiration around the world for his contributions to culture and the arts.
About Frank Sinatra Enterprises (FSE)
Frank Sinatra Enterprises is a joint venture between the Sinatra family and Warner Music Group. FSE owns Sinatra's recordings from the Reprise era as well as a treasure trove of films, television specials and unreleased footage, photos and audio recordings, which collectively represent one of the foremost bodies of artistic work of the modern era. FSE also owns and manages Sinatra's name and likeness rights and represents the artist's rights to the Columbia and Capitol catalogues. FSE pursues innovative new product and venture opportunities with respect to the legendary entertainer's name and likeness, as well as Sinatra's audio and visual recordings. (www.sinatra.com)
# # #
THE EVERGREEN REVIEW
VOLUME 1, NUMBERS 1, 2, and 3
"If it is impossible to imagine literature being labeled obscene in our time, it is largely because of the Evergreen Review." —The Daily Beast
From the moment of its inception, The Evergreen Review pushed the boundaries of propriety and free speech. Authors like Allen Ginsberg, Kenzaburō Ōe, and Jean-Paul Sartre were for the first time introduced to a broad American audience, and the response was explosive: the Review and its contributors faced lawsuits and charges of obscenity. The role of The Evergreen Review in 60's counterculture can hardly be overstated; at its height, the magazine reached a quarter of a million Americans.
Copies of the original issues of the magazine are hard to come by, and are sought after by collectors. Now, Foxrock Books—the publishing arm of the recently revived Evergreen Review—is pleased to offer carefully crafted facsimile paperback editions of the classic first three issues of the review.
These issues feature Jean-Paul Sartre, Samuel Beckett, Mark Schorer, Henri Michaux, Baby Dodds, Michael Hamburger, James Purdy, Harold Feinstein, Henry Miller, Kenneth Rexroth, Allen Ginsberg, Jack Kerouac, Dore Ashton, Lawrence Ferlinghetti, Michael McClure, Gary Snyder, Jack Spicer, Albert Camus, and others.
Dale Peck, editor-in-chief of the relaunched Evergreen Review, is available for interview, as is John Oakes, publisher of The Evergreen Review and co-publisher of OR Books.
 The Evergreen Review Volume 1, Numbers 1, 2, and 3
Publication date: May 18, 2017
Vol 1 Number 1 ISBN 978-1-682190-89-0 Paperback ($16)
192 pages
Vol 1 Number 2 ISBN 978-1-682190-90-6 Paperback ($16)
168 pages
Vol 1 Number 3 ISBN 978-1-682190-91-3 Paperback ($16)
164 pages
What with the election of a narcissistic, reality TV star, pathological liar as a president, and faced with a cabinet composed of ultra-rich elites and white supremacists keen on feeding off the hands of corporate vested interests … all bent on dismantling everything that humanists have fought for decades (progressive environmental, gender, health, educational and social reforms), it's time to rise to the barricades as we did in the 1960s. Protest. Write columns, letters, blog posts. Call your government representatives — on a regular basis. Here's a sampling of sites and information sources with which to do battle.
Michael Moore's Resistance Calendar and Website
Michael Moore.com
Michael Moore's Resistance Calendar
Robert Reich
Secretary of Labor in the Clinton administration, chairman of Common Cause, a co-creator of the award-winning documentary, "Inequality for All," and the best-selling book "Saving Capitalism."
5Calls.org
Make your voice heard. Calling your Government on the phone can crreate the changes you want. Spend 5 minutes, make 5 calls. Calling is the most effective way to influence your representative. 5 Calls provides phone numbers and scripts so calling is quick and easy. Their phone app uses your location to find your local representatives so your calls have more impact.
10 Plagues Unearthed by This Election We Need to Face
7 Signs American Democracy Is Sliding into Tyranny
Welcome to the Authoritarian Kleptocracy
AlterNet
AlterNet is an award-winning news magazine and online community that creates original journalism and amplifies the best of hundreds of other independent media sources. AlterNet's aim is to inspire action and advocacy on the environment, human rights and civil liberties, social justice, media, health care issues, and more.
These are the times that try men's souls.
Thomas Paine
keep looking »